Office News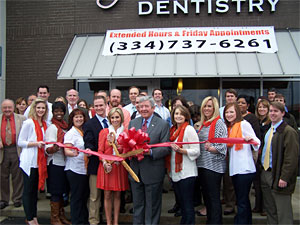 We are excited to launch our practice in Opelika-Auburn!
Be sure to Like us on Facebook to stay in touch.
---
Announcing: New 20-Minute in office Teeth Whitening with Sinsational Smile! Schedule today and SAVE:
• $99 if scheduled with your Complete Exam & Hygiene Visit
• $149 if scheduled at a separate appointment
(Limited time offer. Please mention this promotion.)


A smile so bright, it's sinful.
www.sinsationalsmile.com
---
Check out what's happening in Dentistry:
Recent Health Updates
American Heart Association Guidelines for Dental Patients - Changes to Antibiotic Dental Premedication Protocol for Heart Murmurs and other heart conditions.
Read more at the American Heart Association web site.
---
Visit these web sites for great information about Your Health:

National Institutes of Health Medline Plus:
www.nlm.nih.gov/medlineplus MedlinePlus directs you to information to help answer health questions. MedlinePlus brings together authoritative information from NLM, the National Institutes of Health (NIH), and other government agencies and health-related organizations. MedlinePlus also contains extensive information about drugs and supplements, an illustrated medical encyclopedia, interactive tutorials, the latest health news, and surgery videos.