Our Team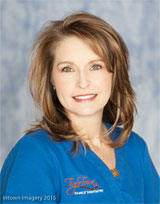 Katherine "Kat" Bentley, RDH
Practice Administrator
"I love helping my patients understand oral health. We have cameras that allow us to show our patients what we see and use educational videos to explain dental procedures. We have great conversations and it is really rewarding to see an improvement the next time they come to see me!"
Originally from Millerville, Kat received her Dental Hygiene degree from Columbus Technical College in 2007. She also holds a B.S. in Computer Science from Jacksonville State University, so she is very tech-savvy, which is a wonderful skill set in dentistry today!
As Practice Administrator, Kat is instrumental in managing our practice to meet our patients' needs with uncompromising excellence. Patients enjoy her warm, compassionate approach. A Mom herself, Kat loves helping children learn about their teeth and helping parents understand how to manage their child's dental health. Away from the office, Kat enjoys spending time with her husband and two children, as well as reading and baking.
---
Sydney Allen
Registered Dental Hygienist
Sydney grew up in Montgomery, Alabama where she attended Eastwood Christian private school. Growing up in a very large family is where she believes her 'go with the flow mentality' comes from.
She started her 7 year dental career as a Dental Assistant before attending Dental Hygiene school at the University of Alabama at Birmingham in 2014.
She recently married her high school sweetheart Max. Away from the office she likes to travel with her husband, spend time with their two fur babies Nova and Kratos and making special moments sparkle as a makeup artist.
---
Kim Cowan
Patient Coordinator
Kim grew up in Mobile, Alabama and moved to Opelika in 1984 when she married Charles Cowan. They have 2 children, Wes and Blair. Her son Wes is a Doctor in the Navy and stationed with his wife, Madison in North Carolina. Blair works with the visually impaired in Alabama.
Kim got her start in the dental field when she moved here and started working in Orthodontics and well as General Dentistry.
In her spare time she enjoys spending time with her husband and their 2 dogs, Mollie and Buckley. Kim is excited about becoming a grandmother in February of 2018.
---
Rose Lockhart
Registered Dental Hygienist
Rose is from Dothan, Alabama and has been in the dental field for 28 years. She attended the dental hygiene program at the University of Alabama at Birmingham where she received her Dental Hygiene Degree.
She has 2 children and 6 grandchildren. She enjoys spending time with family and friends, cooking and singing in her church praise and worship band. Rose says, "I truly love my job and feel very blessed to be able to teach and educate my patients on healthy oral care."
---
Jennifer Wood
Registered Dental Hygienist
Jennifer is from Valley, AL where her dental career started as a dental assistant in 2002. She attended the UAB Dental Hygiene program where she received her hygiene license in 2005. In her 17 years of being in dentistry, Jennifer says she truly LOVES her job and loves interacting with her patients and teaching them good oral hygiene care.
She is married to her husband Steven of 24 years. They have 4 children and 5 fur babies that they thoroughly enjoy spoiling! She enjoys spending all of her extra time with family making lasting memories.